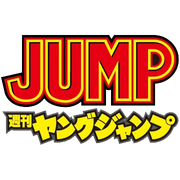 Weekly Young Jump
(週刊ヤングジャンプ Shūkan Yangu Janpu) launched in 1979, is a weekly Japanese magazine that publishes various seinen manga in each issue. It is published by Shueisha under the
Jump
line of magazines. The chapters of series that run in
Weekly Young Jump
are collected and published in tankōbon volumes under the "Young Jump Comics" imprint every four months. Many of the featured series are known to contain heavy violence and a fair amount of sexual content. The magazine is headquartered in Tokyo.
Weekly Young Jump has a special issue, called Young Jump Gold (serializing monthly), Aoharu (serializing irregularly), Young Jump Battle and Young Jump Love. And Weekly Young Jump also has sister magazines called Ultra Jump, Grand Jump (created after the fall of Super Jump and Business Jump), and Jump X.
Weekly Young Jump was launched in 1979 as Young Jump (stylized YOUNG JUMP) and was designed to be a seinen (or more adult) alternative to their popular Weekly Shōnen Jump anthology that targets a younger male audience. The Young in Weekly Young Jump is a manga magazine cliché that is the translation of "seinen" meaning "young" or "youth." In 2008 Rozen Maiden from Monthly Comic Birz was set to restart in the Weekly Young Jump magazine. Also in 2008 an offshoot issue similar to Monthly Shōnen Jump was released called Monthly Young Jump.
There are currently twenty-seven manga titles being regularly serialized in Weekly Young Jump. Out of twenty-seven series, two series are serializing monthly and one series is in hiatus.
Former Series
Edit
Special issues
Edit
Young Jump GoldEdit
Young Jump Gold (ヤングジャンプGOLD, Yan Janpu Gorudo?) is a spin-off issue of Weekly Young Jump, first published on July, 2017. It includes one shots and Weekly Young Jump series' side stories.
Young Jump BattleEdit
Shueisha launched a spin-off magazine called Young Jump Battle in October 2019. It focuses on manga from the battle manga genre. The first issue will have 5 one-shots from Young Jump mangaka.
Young Jump LoveEdit
A spin-off focused on romance manga called Young Jump Love launched on winter 2020.
Community content is available under
CC-BY-SA
unless otherwise noted.