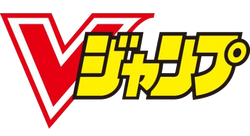 V Jump (ブイジャンプ, Bui Janpu?) is a monthly shonen manga anthology published in Japan by Shueisha under the Jump line of magazines. The first issue was released in 1993, and is still circulating. The chapters of series that run in V Jump are collected and published in tankōbon volumes under the "Jump Comics" imprint every two to three months. The magazine features many inspired by videogames and hosts the Yu-Gi-Oh! series manga.
History
A prototype magazine called Hobby's Jump was launched in the 80s as a spin-off issue of Monthly Shōnen Jump. Hobby's Jump was announced discontinued, and a new magazine called V Jump arrived. V Jump is a video game magazine, namely for the Dragon Quest and Final Fantasy series, as well as many shōnen manga. Akira Toriyama designed the magazine's mascot character V Dragon (V龍), who was named via a reader poll.
V Jump has also taken many series from Weekly Shōnen Jump, such as Shadow Lady created by Masakazu Katsura, which has had more success than ever in V Jump. Later on, the magazine published a sequel to the classic Weekly Shōnen Jump series Dr. Slump, characters from which appeared on the cover of the first issue of V Jump, titled The Brief Return of Dr. Slump (written by Takao Koyama and illustrated by Katsuyoshi Nakatsuru). After the Dr. Slump series, an adaptation of the spin-off anime Yu-Gi-Oh!: Duel Monsters GX called Yu-Gi-Oh! GX began serialization. The serialization of the series Yu-Gi-Oh! R ended on December 21, 2007.
V Jump Books
V Jump's primary content is the information regards the video/arcade games and card games. Therefore, there are limited numbers of manga titles that have been serialized in V Jump. Most of the manga titles in V Jump are the comicalization of the animation and the video/card games.
Features
Current Series
There are currently eight manga titles being regularly serialized in V Jump.
Series Title
Author
Premiered
Notes
Boruto: Naruto Next Generations (

BORUTO -ボルト- -NARUTO NEXT GENERATIONS-

)
Mikio Ikemoto, Ukyo Kodachi, Masashi Kishimoto
July, 2019
Transferred from Weekly Shōnen Jump
Dragon Ball Heroes Victory Mission (

ドラゴンボールヒーローズ Victory Mission

)
Toyotarō
September, 2012
On Hiatus
Dragon Ball Super (

ドラゴンボール超

)
Akira Toriyama, Toyotarō
June, 2015
Digimon World Re:Digitize Encode (

デジモンワールド リ:デジタイズ エンコード

)
Kōhei Fujino, Akiyoshi Hongō
April, 2013
On Hiatus
Dragon Quest - Dai no Daibouken: Yuusha Avan to Gokuen no Maoh]] (

ドラゴンクエスト ダイの大冒険 勇者アバンと獄炎の魔王

)
Yusaku Shibata, Riku Sanjo
September, 2020
Dragon Quest: Souten no Soura (

ドラゴンクエスト 蒼天のソウラ

)
Yūki Nakashima, Yūji Horii
December, 2012
Yu-Gi-Oh! OCG Structures (

遊☆戯☆王OCGストラクチャーズ

)
Masashi Sato
June, 2019
Yu-Gi-Oh! SEVENS Rook! Bakuretsu Hadou Den!! (

遊☆戯☆王SEVENS

)
Hikokubo Masahiro, Sugie Tasuku
September, 2020
Former Series
Bakuen CAMPUS Guardress

Digimon Adventure V-Tamer 01

Digimon Next

Digimon Xros Wars

Dragon Ball: Episode of Bardock

Gaist Crusher First

Go! Go! Ackman

Haō Taikei Ryū Knight

Kinnikuman II-Sei: All Chōjin Dai Shingeki

Onmyō Taisenki

Shadow Lady

Slime MoriMori

Viewtiful Joe

Z/X: Code Reunion